XML Connection to HostelBookers
Hi everybody,
We finally could announce the new connectivity to HostelBookers through an XML connection.
As most of you already know, we have been offering a connection to the channel HostelBookers through a screen scraping (emulating browser's actions on the extranet) engine so far. This was to update contingents and fetch reservations too.
But we do not consider this way as the most reliable one, so that we were offering it for free.
The new driver will bring some improvements compared to the old version in screen scraping, such as, for axample, the performance sending updates to the channel or downloading reservations from it. A part from being much faster, it will be possible to manage restriction plans for this OTA too.
For those who are already using HostelBookers in Wubook it will be possible to request the new connection on the channel configuration page and in the meanwhile it won't be totally update, changes will be send through the old version of HostelBookers.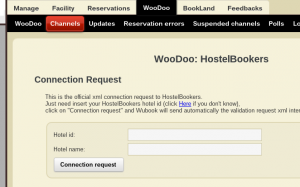 Finally, the connection in screen scraping will be dismissed and substituted with the new one before February 2014 and the channel won't be for free anymore. A low price (from 3 to 6 euros a month) for an high reliability.
As always, please, get in touch with us if you want to share your thoughts.
Best regards to all of you!