With the new version of YouBook we have developed a new tool that allows  to an external software, to enter new reservations for your property
Activating the plugin,  a key  will be assigned (Alien Code) that you can always change with a simple click as you can see in the image here  below.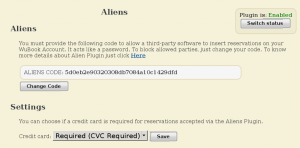 We hope that this tool will be able to guarantee the integration of reservations on WuBook from any program and management.
For technical informations you can consult the guide by clicking HERE.
As you know your comments are always appreciated, even only to ask  why we have called it  "Alien"?
This is it all for now, have a great day.