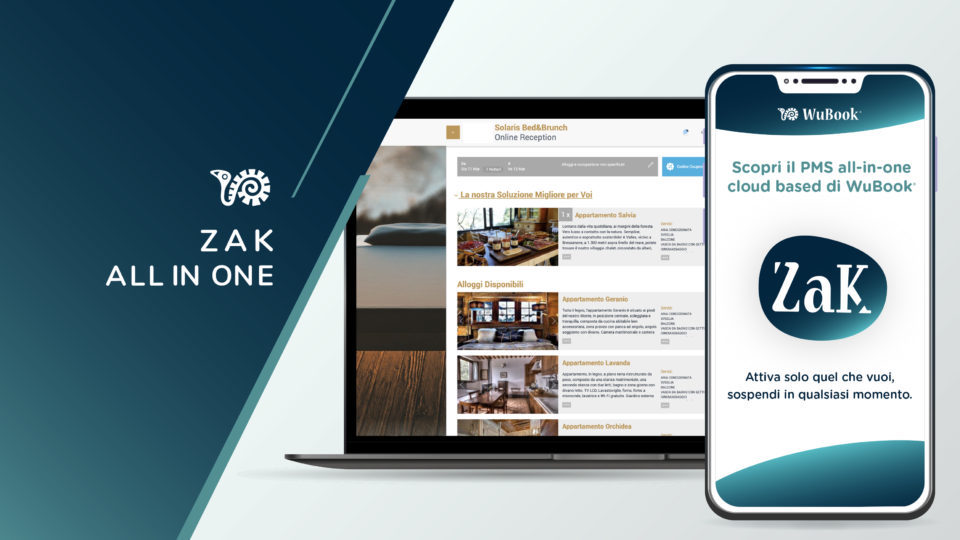 New ZAK Release – October 2020
Dear WuBookers,

The month of October is coming to an end, and as usual, we are about to release some important ZAK improvements.
The new release will be online on Tuesday, October 27th.

Let's see more in detail the improvements performed by our developers:

ZAK General Improvements

– Directly from inside Tabla, you can now display the total number of reservations received by OTAs each day (both in Easy and Advanced view).
By clicking on the availability box, you will see a window with the reservations details (for now, Super products are not included in the count).
Finally, you can now enter the Availability Modifier and Ota Limit values from the Easy view.

– Payments entered within a reservation can now be permanently deleted (before the canceled amount was visible but crossed out).

– We updated the description texts in the package subscriptions page and, in particular, those of the Finance Package. Some countries' descriptions are still missing, but we have made everything clearer, especially the functioning and costs of multiple tax positions.

– On the Planner, when you receive the reservation of a Super Product, the rooms involved are now automatically "blocked," so they cannot be moved to avoid unintentional displacements or errors.

– The Reservation Voucher now contains the same entries and terminology of our Booking Engine.

Zak Finance package

– We have introduced for all our Italian customers the possibility to send the electronic invoice automatically. On the Setup page, you can now enable this option. We remind you that by default, this option is disabled.

– Italian invoicing. We've improved The Automatic Filling of the tax code. Now it is smarter and automatic!

– Italian electronic receipts. The "Z closure" now has its dedicated button.

– Greek invoicing. Automatic compilation of the Greek Government tax. Configuration is required from the Settings menu.

– Chilean Invoicing Release


Zak Channel Manager

– Within the Airbnb channel, we have added the monitor to control the data sent to OTA.

– ZAK Channel Manager Book (ZCM Book)

In our initial intentions, Zak's Channel Manager should have total control over every Channel operation to allow users or our account managers to monitor the situation in case of reservations problems.
Starting from today, you can get information about your reservations: we are developing other indicators and parameters to monitor each connected channel to make it more efficient and precise.

– To create, among other things, also a new "space" for the ZCM Book, we decided to redesign the Channels page from scratch. This allowed us to have several advantages, among which a sort of Channels "Eagle view" that will now have a dedicated Dashboard to control everything at a glance.

– The main commands and control tools of the Channel Manager will now be visible and available on a single screen:
1) Lost Reservations Recovery, 2) Channel Manager Settings 3) Update Control 4) Launch Manual Update 5) ZCM Book
– The Updates submenu will disappear: Zak Channel Manager and ZAK Booking Engine will have their dedicated sections within the Online menu.
The Reservations section will soon be redesign: its 6 submenus (InsideOut, Pending, Options and Offers, Warnings, Latest Events, and Cancellations) will be unified in a brand new and powerful Dashboard dedicated to reservations.

Zak Booking Engine

– We have added the possibility to round prices.

What's in store for the near future?

– New Payment Gateways
– Email requests for Payments
– New Online Check-In integrated with ZAK Booking Engine
– Reviews on ZAK Booking Engine
– Other international invoicing models
– Graphic restyling of the Channel pages in the Channel Manager section
– Graphic restyling of the City Tax and Reservations sections
– Description of cancellation policies in all languages on ZAK Booking engine
– Specific physical addresses associated with a particular type of room (e.g., Apartments) to use in vouchers or automatic templates.
– Reservation Advance expressed in hours.

As you can see, the work is a lot, but it never stops!
We renew the usual invitation to participate in our Blog and Forum.

Keep following us because there will be surprises, even very big ones, in the next months!

Good work to everyone, and stay tuned!