Dears WuBookers,
I can finally announce (cause we finished the alpha phase, we are now in Beta) and publish the RateChecker made in WuBook!!! CodeName is WrPeeker, but I imagine we'll call it always Ratechecker, that sounds much better and easier! I'm sure someone is wondering what the hell is this? Well, its name is suggesting something but please, be patienet and read this article. 😀
The RateChecker is a tool that allows to monitor (and compare) preices and availabilities of your competitors. Do you want to check and control your direct competitors? Do you need to have datas of other hotels to better understand the trend of the market and keep your prices on the match? Or do you prefer to know the remaining availability of the competitor hotels to get their occupancy trend? For all this, the RateChecker is the right tool..
By the way, the real value of the RateChecker overcomes the simple comparation of prices and availabilities. It is not just a comparator. Everytime you execute a "scan" – let's call them "Snapshots" – you are saving a file to build an historical archive with a market trend to read at anytime. This way, you'll be able to access complete information year after year.
It is possible to compare many snapshots and the RateChecker allows you to recognize availability or price modifications your competitors have done for their properties. There are chats, comparative tables, graphics. The result is (in my honest opinion) awesome. Here you have some screenshot:
Moreover, the RateChecker is ready to interface to receive and send datas to any third party software, such as hotel PMS (property management systems), channel managers and online booking engine of other companies.. There are already projects regarding Yield Management that, for eaxmple, allow you to sync your rates to results of RateChecker Scans. This way you'll be able to be always one euro or two more convenient than your competitors..
The RateChecker development has taken about few years for us. It has been started and restarted many times without any good result. But we are stubborn..and we decided to try again, and finally we have it. Many thanks to Avocado, the real dad of this product. He is the one who succeed where others failed.
The RateChecker is already in use on 20 properties. There has been interesting conversations in the italian and spanish forum so I invite you to share your thoughts. Your opinion is very interesting and helpful. I also remind you that the RateChecker is no longer free of charge but the price have a discount of 50% during the Beta Test period. Full charge will start once the software will be considered realiable 100%.
For curious people prices are…what do you think? High prices? Our philosophy is still the same. Low prices for all the accounts: small, medium or big hotels deserve the same quality. The Best quality. So the cost depends on the number of scans you want to do, the frequency and the number of competitors. For each competitor you can decide the frequency of scans (daily, weekly, monthly, etc) and also the number of days you want to monitor (2 weeks, one month, 40 days, un year). To be clearer, about 1 euro each 40 monitored days.
You can access WrPeeker from WuBook by clicking on the EYE icon, on the right top under Fast Links: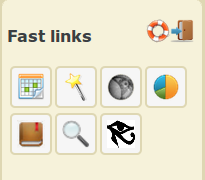 Or from the Auth Factory: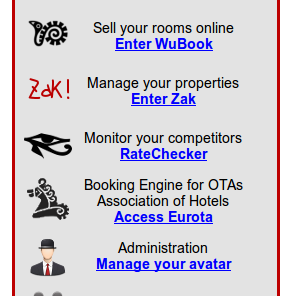 Hopefully this could be a great tool for all of you and I'd like you can say "thanks guys, this really helped me in my daily work!" Sicnerely I feel very happy about the RateChecker cause it has been required from time ago and many times during these years. I am confident about the success of it!
Enjoy!