TripAdvisor: Sponsored Placements and Business Advantage
2019 has been a great year according to STR report stating that global RevPar and Occupancy metrics have grown compared to 2018. This is a good trend indeed and we all (on the hospitality environment) should be happy about it.
But we need also to be prepared for 2020 to become better and better.
So, is there any way we can improve hotel online distribution? Can we have more visibility or more bookings from Metasearch like TripAdvisor? How to convert more and take advantage of WuBook partnership with Metasearch?
What to do more than simple exposure on Metasearch?
So, how to stand out is the question we should make to ourselves and for which I will try to share few tips. This chapter is dedicated to TripAdvisor (one of the most important Metasearch in the hospitality business) but soon we will also discuss more about OTAs, GDS, TTOO and other partnerships we are managing.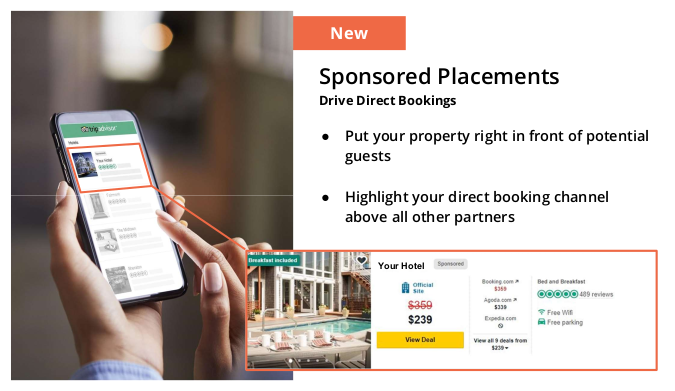 TripAdvisors offers 3 new services
By talking with our collegues at TripAdvisor, we realize they offer 3 main new services which can boost your revenue in 2020:
Sponsored Placements
Sponsored Placements Direct
Business Advantage
Here below I will give a quick insight of each service you have at your disposal but first, let me tell you that..
"owning a WuBook account will allow you to get special discounts."
We also want to remove any commercial friction you may see on participating to these programs and, in agreement with TripAdvisor itself, we have the opportunity to give you PROMO CODES as follows:
10% off 1 month of Sponsored Placements
PROMO CODE: 02KW1
1 month free trial of Business Advantage:
PROMO CODE: 08QPT
Simply specify these codes at the moment of the registration in TripAdvisor and you will have benefits as described above.
So, let's discover together what are the new features TripAdvisor put at your disposal for 2020.
1. TripAdvisor Sponsored Placements

According to TripAdvisor, 74% of travelers who go on to book directly on a hotel website visit Tripadvisor at some point along their planning journey.
Sponsored Placements is the chance to get more visibility on the website of Tripadvisor, showing up with your accommodation listing ads, right in front of a guest looking for a place to stay in your area. This is basically an increase of visibility for your business, similar to Google Ads but in the results page of TripAdvisor.
Sponsored Placements does not impact any ranking on the site but put your property listing in high visibility above search results.
It works easily for you as a partner because you can quickly start using it through a really fast and intuitive onboarding process. Moreover, once campaigns are set up you will be able to monitor performances (impressions, clicks, booking referrals and so on) and get reported.
TripAdvisor support team will be always available to help and give you useful tips.
2. Sponsored Placements Direct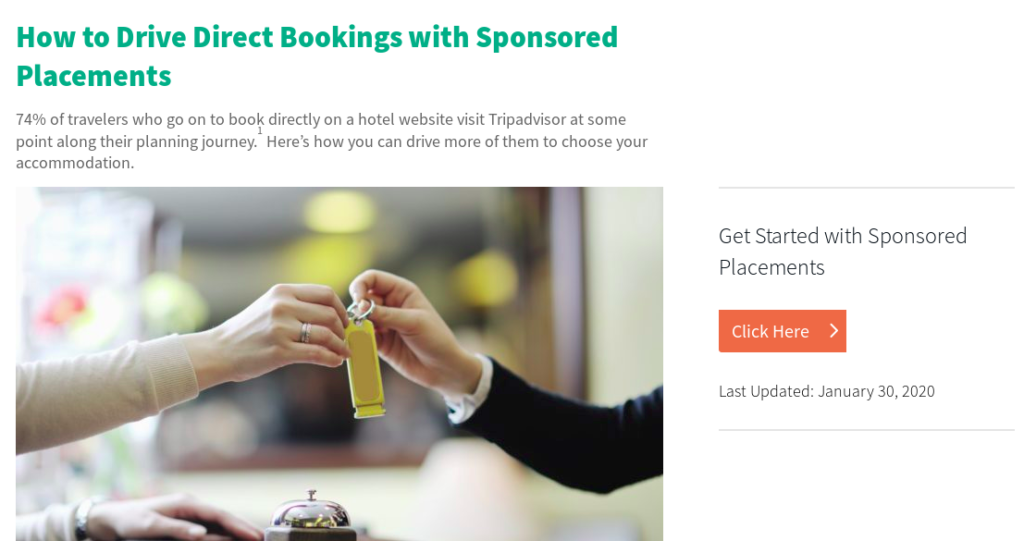 Enhancing Sponsored Placements is possible with WuBook. You can add a Direct Link to make visitors book a room straight from the ads, being more visible through a sponsored positioning.
This means that you are right in front of the visitor when he is browsing TripAdvisor platform looking for an accommodation. In this way you can provide him a targeted price with a simple link to a specific offer.
We believe this option is really attractive and it is also a nice opportunity to increase your revenue and convert the higher traffic into real reservations.
3. Business advantage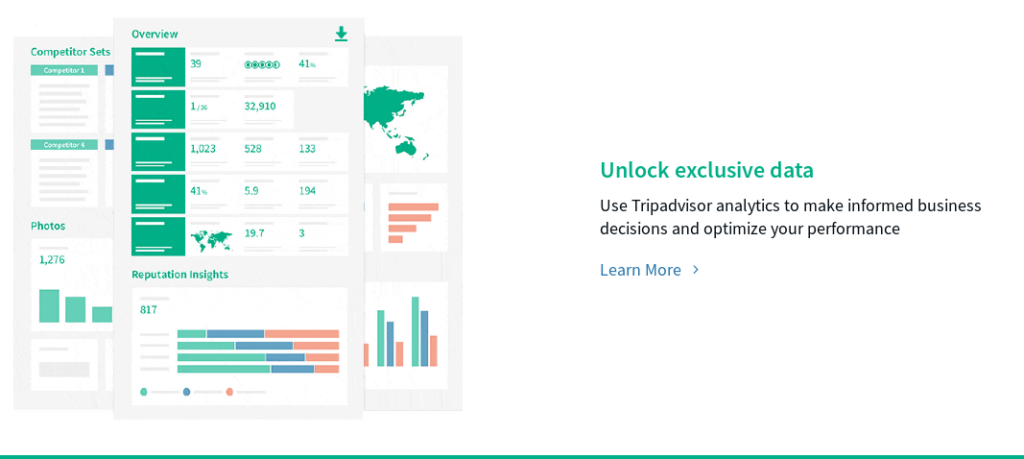 This option is a set of considerable and premium features you can unlock to enhance the value of your TripAdvisor account. It also allow to better understand how to improve and better positioning your business in TripAdvisor researches among the competitors.
With Business Advantage you can unlock a set of data (like guest contact data, search links, etc.) to streamline your connection to new guests who are constantly visiting Tripadvisor researches among the competitors.
Not only does Business Advantage give exclusive access to analytics, but it also allows you to post your direct website link, phone number and email on Tripadvisor to help travelers book with you directly, promote special offers to stand apart from competitors, and have access to tools to help enhance your profile page.
Conclusions
As you know, we are a Premium Connectivity Partner of TripAdvisor and we allow you to offer your rooms on their website with the aim to increase the number of direct reservations, boosting your revenue and optimising the online presence of your accommodation.
The simple fact of being listed with your "Direct Book" option through Instant Booking of TripAdvisor is the minimum you should do, as for taking part of the market competition.
But simple technical connectivity is just a commodity and we want you to understand that the management of your visibility and distribution involves a committment from your side to make it work and generate together a better product.
As always our account managers are at your entire disposal to help you set up and understand how all these new products are working.
Let us know if you have feedbacks or any further doubt.