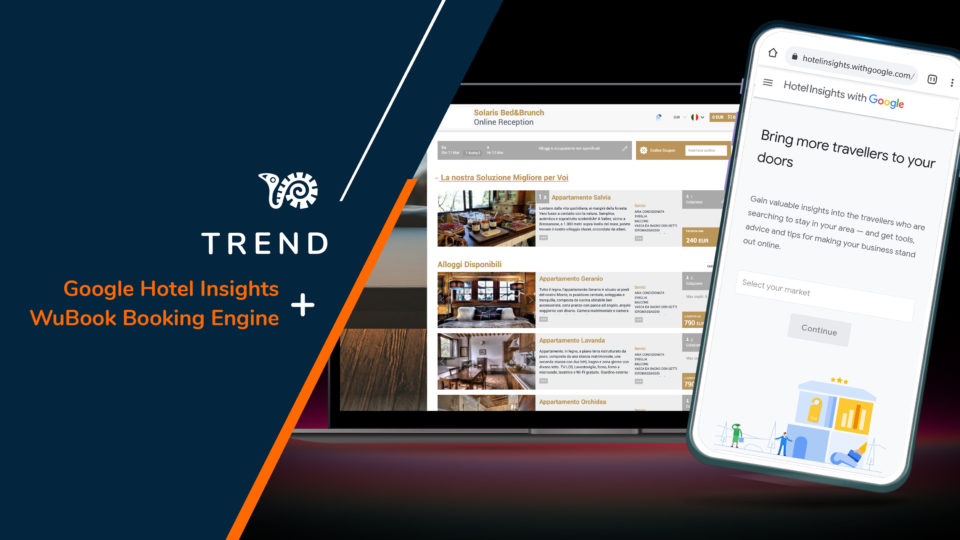 Will Hotel Insights increase reservations?
Dear Wubookers, a few weeks ago Google officially launched a new platform, which is totally free, exclusively dedicated to the tourism market: "Hotel Insights" where data from research volumes and from travel intentions are gathered (here is the presentation video: )
In this article, weexplain in detail what Hotel Insights is, how it works and how you can take advantage of it.
WHAT IS GOOGLE HOTEL INSIGHTS?
You may have seen insights from your Facebook and Instagram Business profiles or Google Analytics for your website. There you go, with insight data you can have a better knowledge about your pages. For instance data is page views, post coverage, interactions (likes, comments, shares, etc.). Likewise, Google Hotel Insights becomes a window on global data of the hotel market.
HOW DOES GOOGLE HOTEL INSIGHTS WORK?
It's very simple! You can directly insert the name of your facility, if this has already been inserted in Google My Business, or you can type the desired Italian region.
Immediately, you will be able to see an overview of the chosen region: the difference in people's interest in the last 12 weeks and how this attention is distributed between domestic potential customers and foreign.
In addition to this, by clicking on the button at the bottom of the page, you will be able to explore the data related to the markets, that is, which countries in this last period are conducting more researches for your area and which are the the markets where there has been an upsurge of searches, always related to the previous selected region.
An example?
Let's take a B&B in Rome, Google Hotel Insights shows us how United States, after the Italian domestic tourism, is the Country that condcts the most searches on the destination Rome. This helps you to understand if your customers are more Italian or foreign and consequently to adapt your communication campaigns, for example creating a landing page in the language of your potential customers or using a booking engine in multiple languages. In fact, Hotel Insights data helps us identify which market is most interested in your business so that you can focus on it.
IS GOOGLE HOTEL INSIGHTS USEFUL?
Surely this data allows you, together with the booking history, to outline a better marketing strategy for your hotel. What Google, also with this tool, is reminding you is to improve your online presence.
The Observatory, Digital Innovation in Tourism, of the School of Management of the Politecnico di Milano researched what the relevant trends were for the tourism sector in Italy in 2020 and identified that, even in the context of a dramatic 60% drop compared to the previous year, there was a growth in the weight of direct booking on turnover, especially online.
3 THINGS TO DO TO IMPROVE YOUR ONLINE PRESENCE
1) Take good are of your Google MyBusiness tab with updated information and beautiful photos (here google teaches us how to improve it https://hotelinsights.withgoogle.com/intl/it_it/resources/online-visibility/getting-your-hotel-online-with-google-my-business/?region=ChIJ8_OFtDlgKxMR4H-6_AubBwM#getting-your-hotel-online-with-google-my-business-1. This page is too often underestimated, while it is fundamental for your Adv campaigns to be successful.)
2) Integrated Booking Engine: the main goal of a Hotel website is the conversion of visits into direct bookings. In a few seconds the potential guest wants to know prices and availability of the rooms on the selected days in order to make a direct booking. Our Booking Engine allows direct integration with Google showing rates for the selected days, directly on the Google My Business tab.
3) Mobile friendly website: since 2016, Google has started using the mobile-friendly parameter as a determining factor for improving Google rankings.
Would you like to explore the possibility of a booking engine that can be integrated with your website?
Take a free trial with WuBook and we will advise you on the most suitable solution for your business.