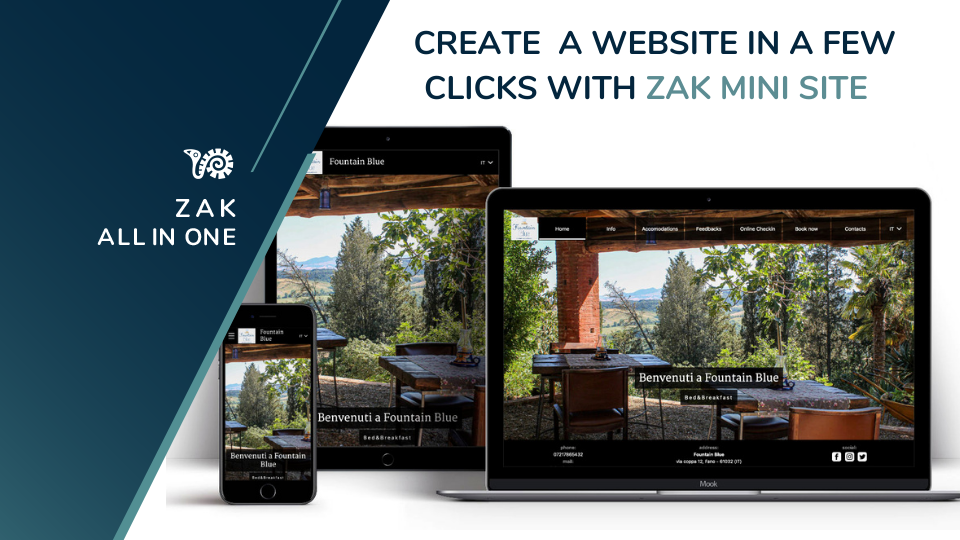 Zak Mini Sites has arrived to create a professional, integrated and mobile responsive website in a few minutes.
Dear WuBookers,
we have some great news! Now you can create a website in just a few clicks for your hotel, B&B or country house directly from Zak, our cloud-based PMS that also offers you Channel Manager and Booking Engine in a single interface.
In fact, we have added an area to Zak called Mini Sites, which will allow you to create your own pages and their contents in just a few steps. Obviously the Booking Engine will be the heart of your site, with prices and availability always updated by Zak.
ZAK MINI SITE LAUNCH PROMO
Use Zak Mini Sites for FREE until the 1st of September
Why create a website linked to the Booking Engine?
Being present online with a mobile-friendly website indexed on the major search portals is very important for anyone running an accommodation business such as a hotel, B&B, flat or holiday home.
More and more travellers are looking for official hotel websites to book directly and save money after checking availability on OTAs. But to get them to trust you and book directly on your site, it has to be as simple as the OTA portals and optimised for smartphones, which more than 70% of users use.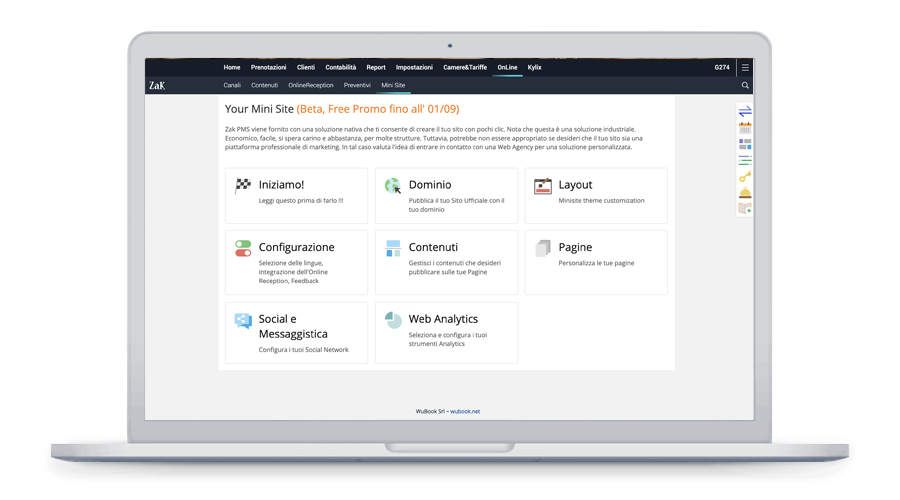 But is it possible to create your own website without any computer knowledge?
Now you can! Thanks to the Zak Mini Sites package, you will be able to set up a website in a few minutes and, linked to the Booking Engine, will avoid costly intermediaries, generating many more direct bookings.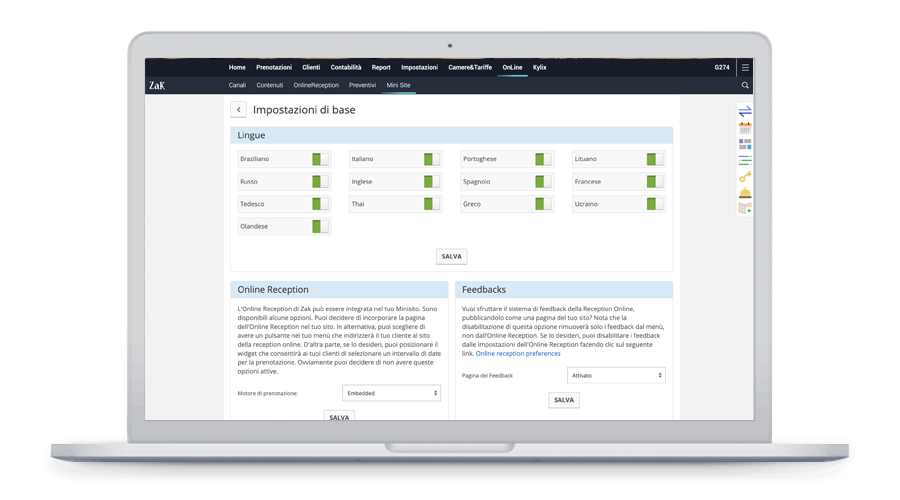 Simple, immediate, easy to edit and commission-free.
Zak Mini Sites can currently count on three complete and modern graphic templates, which you can also change periodically: Boxes, Full TV and Romantik. Many more are coming soon.
Each template has a choice of colours and graphic shapes available to customise the layout of the site in a simple and intuitive way, without having to be a web geek!
What about the domain and the administrative costs of hosting?
No cost! You can use one of our WuBook subdomains free of charge. Alternatively, if you already have one, you can use your own domain purchased from any provider.
10 concrete advantages for choosing Zak's Mini Sites.
MOBILE FRIENDLY: the site adapts to various mobile, tablet and desktop devices.
SEO OPTIMIZED: easy to set up to be visible in major search engines.
CUSTOMISABLE: photos, text content, logos, you can customise them without the need to hire professionals.
MULTILINGUAL: all languages of the Zak Online Reception are available.
WEB ANALITYCS: You can monitor the traffic to your site with Facebook Pixel or Google Analytics.
AUTONOMOUS COOKIES MANAGEMENT: no need to configure them, we do it for you.
DIRECT LINK TO SOCIAL PAGES: to create a direct link with your followers.
REVIEWS: you can enable an area dedicated to feedback from your customers.
INTEGRATED BOOKING ENGINE: for one-click booking.
INTEGRATED ONLINE CHECK-IN: keep everything under control.
How much does it cost?
In order for you to be fully aware of the possibilities offered by the new package, Zak Mini Sites will be free of charge until 1 September 2021.
From 2 September, the package will cost 9€ per month and can be activated/deactivated at any time like the other packages in Zak's suite.
Ready to create your new website?
Register a free account or, if you are already a member of our community, contact our support team.