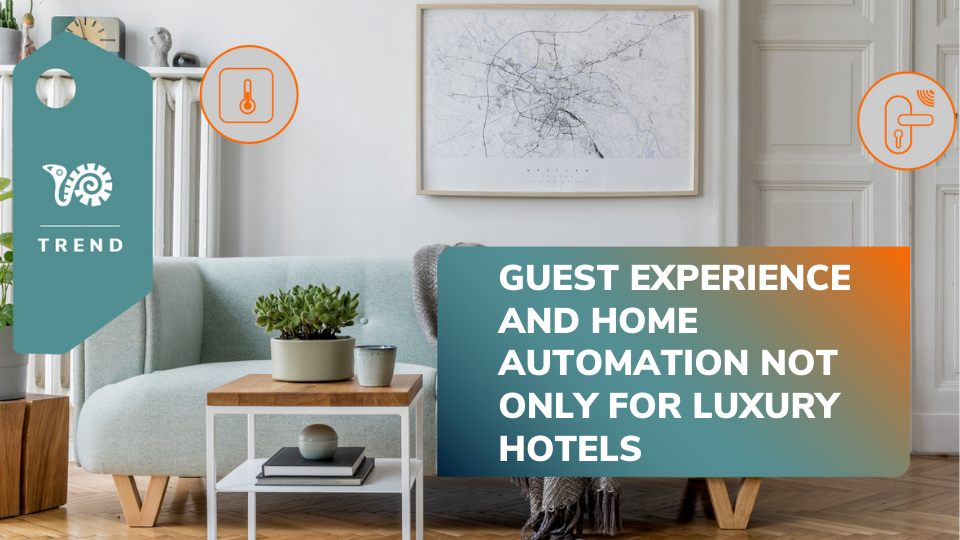 Customer experience: home automation and the Internet of things enrich the experience
Dear WuBookers,

today we face a topic that never goes out of fashion in the sales sector: the customer experience. More precisely, we are talking about the hotel guest experience and how, in the process of booking a hotel room, the room automation technology, intended as the internet of things, has become a central element in the perception of the value of the stay. Are you ready? Let's start with order.
Customer Experience and Guest Experience. Where are we.
Customer Experience is the wholeness of the experiences that a person/user goes through during the process of interacting with a brand. By interactions we mean all the moments that may concern the purchase phases of a product or service but also the request for technical support or the simple request for more information.
In the hospitality market we speak more correctly of Guest Experience and by product we mean the experience lived by the guest or possible guest, in all the phases concerning a stay or the booking of a stay.
The ability of a hotel to offer an excellent customer/guest experience to its guests is, today, one of the most effective ways to remain etched in the guest's memory and ensure that the latter repeat the lived experience of the stay, becoming a loyal customer.
What do today's guests expect
We understand that the Customer Experience is an essential requirement for the brand's reputation: let's think about how easy it's today to share online (and therefore with your community), positive or negative informations about a product or a travel experience.
This mechanism pushes many hotels to offer increasingly memorable and pleasant experiences to their customers, however it is not always so easy. The concept of excellent customer experience changes continuously based on guest expectations, social and market trends.
But what do today's guests really expect?
Speed and usability
Nobody likes to wait. If we have decided to book in an accommodation facility or if we want to access a service from our hotel room, we want to do it quickly, easily and smoothly.
Reliability and consistency
The customers of a hotel/inn/B&B expect to be able to trust and rely on the accommodation facility. People demand consistency: if a certain service is promised, it must be guaranteed as it is described.
Self-service
The ability to be independent in many actions, or to access instant messaging services, is increasingly appreciated. Reservation, check in and check out, interaction with staff, must take place in an increasingly simple and automatic way, saving time and making guests more and more autonomous.
Home automation and internet of things as an extra experience
The expectations of today's guests make us deduce that technology is, and will increasingly be, a central element in the customer/guest experience.
To streamline and simplify shopping or stay experiences, technology becomes an increasingly essential means.
For several years, home automation has been meeting us in this sense, offering valid solutions for both guests and hoteliers. Today we also talk about IOT (Internet of things or objects), smart objects that are part of our daily life and that, thanks to digital technology, allow the exchange of information owned, collected and/or processed.
All this represents a great opportunity to meet customer needs and facilitate the work of accommodation facilities.
WuBook is a partner of Vikey and Keyless
Are you thinking about how to integrate your offer to improve your guests' customer experience? We at WuBook are partners with two companies that can make a difference in your hospitality service.

Our PMS Zak can be integrated with Vikey, a specialized company that allows remote opening, via smartphone, of the door of rooms, apartments and other accommodation facilities. Zak Property Management System automates all aspects of check-in and check-out, including the sending of documents, and afterwards the guest will receive the virtual key to access the accommodation.
Thanks to Zak, hosts can accept all reservations (even last minute or late check-in), increase the occupancy rate and also realize significant savings in terms of time and costs, compared to the traditional check-in procedure.
KEYLESS is also our partner and through the app, software or PMS it allows you to automate the issuance of a QRCode for remote door opening, thus allowing your facility to be fully automated.
Contact us! We will find the solution that best suits your facility.