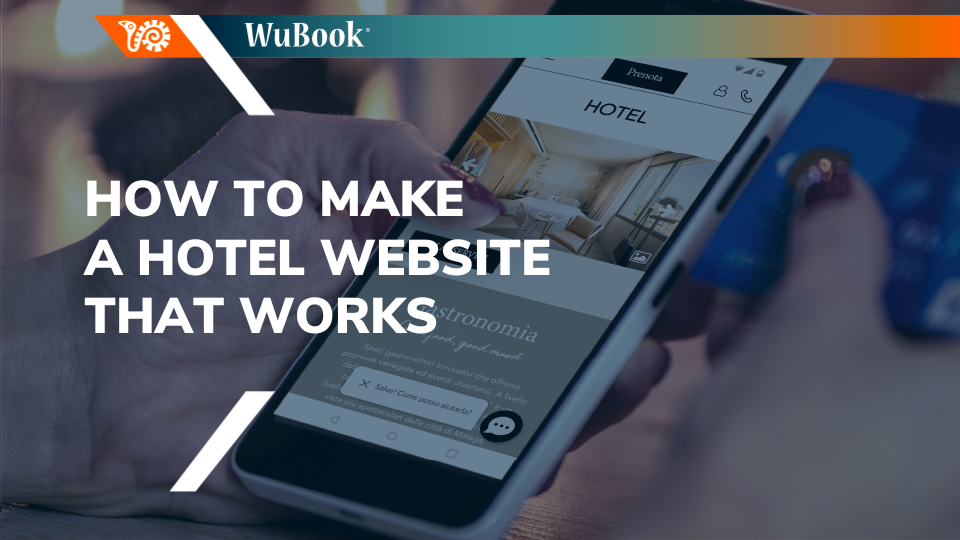 How to make a hotel website that works
Dear WuBookers,

in this article we are going to understand how to make a hotel website that works. Possibly an explanatory, exhaustive site; that appeals to users, that is accessible and easy to navigate for users and search engines, that opens the doors to Social Networks,… in a nutshell "that  generates reservations on his own"!
Why make a website for hotels
Before you get to know how to make a hotel website that works, it's good to understand why a hotel needs a website.
First of all, having an independent online space allows to provide guests with more information about the property and its services, thus also working on its reputation and visibility;
Secondly, it allows you to have a direct sales channel indipendent from OTAs such as Booking.com, Expedia, etc. and maximize profit;
Again, it creates a place to convert all marketing efforts that result from activities such as email campaigns or Google and social advertising campaigns.
Things to keep in mind to make a good site
Not all hotel websites are equal. Each site must meet the needs of the property and its potential customers, as well as guaranteeing all the functionalities needed to make it a competitive sales channel.
Analyzing your target allows you to understand what kind of expectations and needs users have from your site. If your target is very young, they will certainly be able to proceed with the booking automatically. An intuitive, easy and fast service will be enough. Furthermore, he will be willing to diversify solutions if justified by discounts and offers.
Otherwise, if your target is families, they will certainly want to know the services available in the property, the proximity to points of interest and the possibility of obtaining discounts for amusement parks or packages for trips with children.
It therefore becomes relevant to evaluate a good integrated booking system or booking engine: in this way you can receive direct reservations and create ad hoc packages for your customers.
Furthermore, it's convenient to study a functional and responsive design, which allows your users to easily navigate from any type of device, whether desktop, smartphone or tablet. Indeed, any occasion to have a look to your site can be a good chance to make a reservation.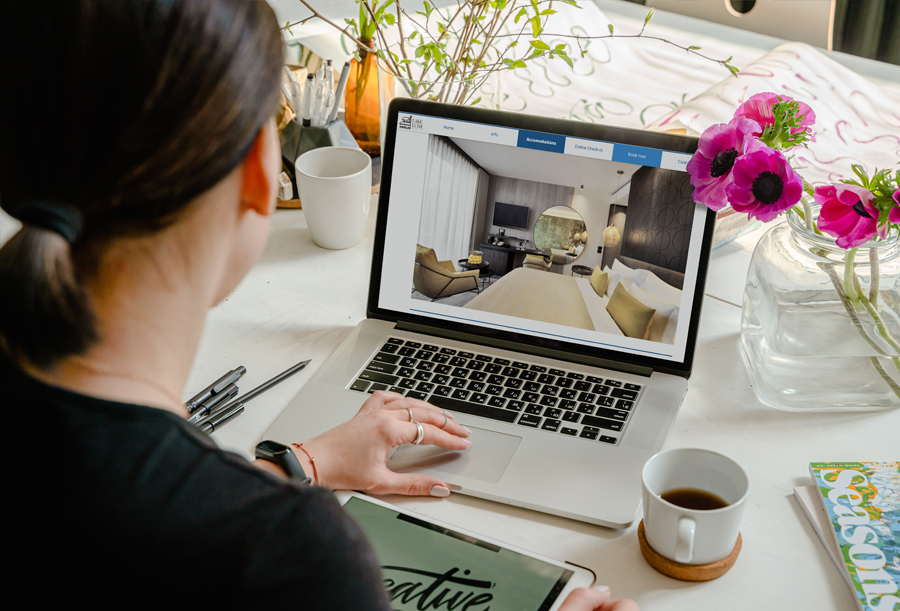 The importance of content
A website that works is a site rich in content. Descriptions, information, photos and videos are essential to give an exhaustive description of your property and your services. Limiting yourself to general information or a few photos is a serious mistake: a website complete with texts and external links to partner restaurants is appreciated by search engines such as Google or Bing and will appear more easily in user searches.
Also, the more details are available on the website, the easier the conversion-to-sale process becomes. If the rates are clear and the descriptions of rooms and services in-depth, the user will feel reassured by the presentation of the facility and more encouraged to close the transaction transaction.
Here is a list of information that can help you choose your content:
In-depth description of the hotel, even on several pages if necessary, with the history, the illustrious characters who have stayed, the variety and comfort of the rooms, the services offered, the family management or not, the welcome and hospitality that distinguishes the hotel, eco-friendly structure and attention to the environment, etc.
The rooms must be described in detail (with photos and videos): give a name to each room to differentiate the offers; talk about good soundproofing, size, large and comfortable beds, adjustable air conditioning or heating, satellite TV; room service; linen change; talk about bathrooms;
The services offered (summary of services, …, parking, laundry and ironing, baby-sitting, wi-fi internet, …);
Talk about the restaurant and the kitchen; insert specific pages to describe typical dishes, DOP and IGP products, selection of wines and spirits, organic products;
Internal common areas (hall, bar area, lounges, conference room …);
Outdoor common areas (garden, tennis court, outdoor bar …);
Wellness area, solarium, gym;
Events;
Offers and discounts;
"Where we are" section (strategic position of the property, "how to reach us", how to move to the best destinations…);
Guided tours organization;
Prices section with pictures of the rooms;
Customer satisfaction (stay experiences);
Useful links (ski lifts, taxi service, rentals, restaurants, entertainment …);
Talk in depth about the location where the hotel is located;
Art and monuments;
Itineraries and excursions;
Night life;
Shopping.
How to make a hotel website that works
Creating a swebite is not trivial. At a first sight, it might seem that it's only needed:
a hosting service, i.e. the space on a server to build the site;
the purchase of a domain (www.hotelabc.xyz);
a reliable CMS;
In reality, to achieve what is now the standard, diversified and deeper skills are required. We suggest relying on professional webmasters specialized in hospitality facilities: it will certainly be easier in the production phase and you will be able to get all the necessary assistance over the time. In this way, in addition to the "showcase" site, which will show a large part of what is already listed (and which is essential for correct indexing by search engines), you will be able to integrate a functional booking engine to your property's website, interfacing with the channel manager, will always keep the availability synchronized on all the OTAs in which you choose to appear.